HiRoadbrand story, CX, email & website copy
Create a challenger brand in a low-interest category? No big deal. All we had to do was this:
Differentiate ourselves visually and verbally
Be mobile-first in an analog and desktop market
Make our story about our customers, not ourselves
Present complex, boring information in fresh ways
Make the purchasing and onboarding journey simple
Less than a year after launching, we're poised to scale nationally, and have succeeded in all metrics:
Grown over 10x faster than other insurance startups
Earned 9/10 customer referrals
Achieved 70+% customer app downloads (vs. single digits for competitors)
Lead copywriter, brand & content strategist
Brand strategy, customer care, CX, email, UX, web copy
I wrote this, using Robert McKee's storytelling principles and Robert Cialdini's behavioral insights.
HiRoad manifesto
I mapped out the key ways we needed to help our customers' thinking evolve, from insurance as commodity, to HiRoad as lifestyle brand.
HiRoad.com home page, balancing brand representation, low page load times, and industry-leading conversion. We achieved double our growth goal in less than a year, in a glacially-paced industry.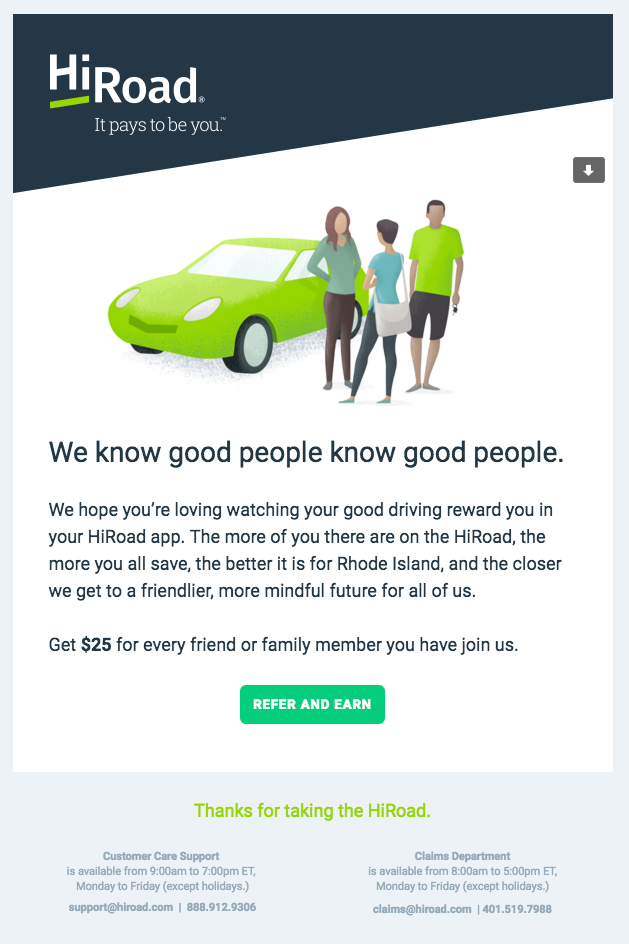 Referral email to customers